At St Paul's Catholic School we have now established an Alumni group. We are proud of each and every one of our students – past and present. Who remain a part of the St Pauls family. Some of the family even decided to come back and are now teachers or support staff.
We love to celebrate our past students successes and enjoy passing on their unique knowledge and experience to our current students.
If you a former student from our school, we'd love to hear your story and perhaps feature you on our website or invite you to call back to our schools and talk about your career pathway. Please contact our Careers Team by calling 0116 2414057 or by emailing careers@st-pauls.leicester.sch.uk
Here a just a few of our ex-students who are a part of our alumni group.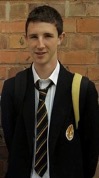 Aidan Robinson – Attended St Paul's from 2005 to 2010
I attended St Paul's from 2005-2010, wow I can't believe it has been a decade since I left! I loved every minute of my time at school and look back with fond memories.
My school highlights include playing for the football team, playing the lead in the Christmas production in 2009 and going to Austria for the performing arts trip in 2010. After finishing my GCSE's at St Paul's, I continued my education by completing A-levels at QE before going to the University of Portsmouth to study a degree in English Language.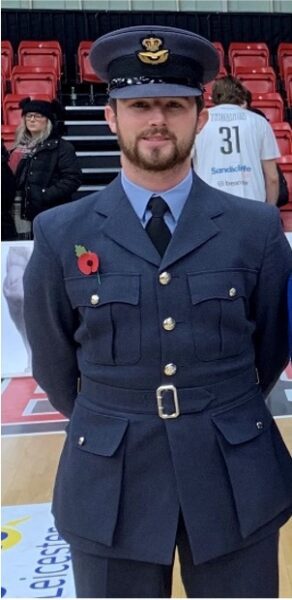 Since leaving St Paul's, I have had a number of different jobs and I have lived in both South Africa and New Zealand for short periods of time. In 2018, I joined the Royal Air Force and commissioned as an Operations Officer in 2019.
I currently work for the National Air and Space Operations Centre at RAF High Wycombe in Buckinghamshire, where I am part of a team responsible for the UK's Air Defence. Aside from the crucial work I have done since joining the RAF, other personal highlights include being selected for the RAF Officers' football team and representing the RAF at the D-Day 75 Celebrations where I met royals and heads of state including Prince Charles and Donald Trump.
There is no doubt that St Paul's played a big part in getting me to where I am today and I hope to help inspire the current students to have as much success as I have had since leaving St Paul's, whether it be through experiences living abroad, going to university or joining the military.
Antony Gargan – Attended St Paul's between 2005 and 2012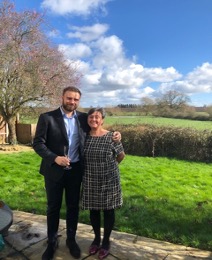 I attended St Paul's from 2005 to 2012 and loved my time there. It is a brilliant school with great teachers, and I particularly enjoyed the Humanities subjects, for which I won the Humanities Shield in 2012. I was also part of Team Ghana, which was an amazing experience – I would advise all eligible students to apply for it. Since leaving I went to the University of Reading (2012-15) where I studied History and Politics. After university, I started working for global professional services Firm KPMG, following an internship which I did whilst at university.
I worked at KPMG for four and a half years as a Management Consultant, where they taught me how to provide professional People Consulting advice in the public sector – working with interesting and varied clients such as Transport for London, the NHS and a number of different police forces. The challenges included advising on how to design organisations (e.g. how many employees, line managers etc.), as well as how to manage big changes and to better do workforce planning (predicting demand; hiring the right people with right skills etc.).
I have since moved to Grant Thornton, where I have been working on similar client challenges. Consulting is an amazing career if you like interesting problems to solve, variety and having a clear impact on public services that are offered. If you would like to know more, please reach out to the school's Careers Advisor, who can put you in touch with me.
James McCabe – Attended St Pauls between 2003 and 2008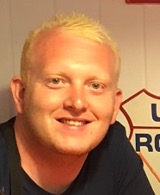 My name is James McCabe and I attended St Paul's between 2003 and 2008. Looking back, my time at St Paul's wasn't very positive, My behaviour was unacceptable and I didn't consider my future however, St Paul's never gave up on me, Although I didn't succeed in my exams and I left school with other skills that taught to me in many different ways by the staff at St Paul's.
Since leaving St Paul's, I turned my life around and taking some of the skills instilled by St Paul's such as resilience I aspired to do great things. Consequently, in 2009 I became  the youngest manager within the McDonalds UK structure. I then went on to have a successful career within the criminal justice system working with young offenders. Since leaving the young offenders service, I went on to support children's services where I am now a Ofsted registered responsible Individual and Social care consultant.
I have gained many outcomes managing children services, obtaining Ofsted judgements of OUTSTANDING & GOOD, I left St Paul's with no qualifications, but the attitude from St Paul's taught me to keep fighting, be resilient and never give up, little did I know then that Qualifications where significantly important for future prospects, I have since obtained higher level Qualifications and currently completing a Level 7 MBA.
I am looking forward to the opportunity to be able to inspire the young people at St Paul's and tell them my story. My objective is to help young people who maybe struggling and finding the educational environment difficult, importantly teaching them to never give up and be the best person they can.